Atlanta Commercial Locksmiths Georgia
Thanks for choosing us as your Commercial Locksmith Service in Atlanta, GA! If you require commercial locksmith care contact us today to get a qualified locksmith tech dispatched to help you here in Atlanta and the greater Atlanta area. If you are in need of emergency security locksmith service we are the fastest to respond, all the time!
Offering the finest in 24 hour emergency service to remedy your security needs throughout Atlanta, GA! Night or day, weekends and holidays you can trust in our ready service anytime you're in need of professional care if you're needing lock maintenance, lock out care or any other need you may have!
24/7 Emergency commercial locksmith service
We give wide-ranging commercial locksmith care everywhere in the Atlanta metro area, plus 24 hour service for lock outs. Our services cover: lock repair/replacement and installation, duplicating and upgrading, recutting lost keys, master rekeying, rekeying, all security installations, all lock service/maintenance and more!
Our service offers a 90-day guarantee on all labor and parts used by one of our commercial locksmith experts when the work is completed throughout the Atlanta, GA area.
Whenever you need emergency commercial service here in Atlanta, GA, call us, 404-793-3258
Prices List
RESIDENTIAL
Service Call
$15
House Lockout
starting at $35*
Lock Rekey
starting at $19*
Lock Change
starting at $35*
Lock Installation
starting at $35*
Gate Lock Repair
starting at $35*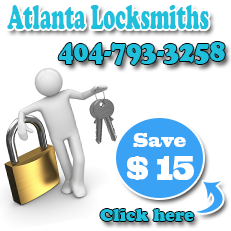 Contact Info
Atlanta Locksmiths
|
www.atlanta-locksmiths.com
Call Us At:404-793-3258
| 3577 Chamblee Tucker Rd 30341
Monday-Friday: 8:00 AM 8:00 PM
Sat-Sun: 9:00 AM 5:00 PM